Welcome to Ashanti Backpackers, Lodge and Guesthouse Accommodation
Ashanti was one of the first backpacker hostels in South Africa more than 20 years ago and now is a well-known Cape Town establishment offering great budget accommodation options in 3 different properties.
Backpackers Ashanti Gardens & Ashanti Greenpoint; refurbished by local interior designers have single, double rooms and dormitories. Our two guest houses around the corner from the Gardens building have beautiful newly refurbished en-suite rooms suitable for young and old.
Our safe, secure premises are open 24 hours a day, offer free wi-fi, delicious breakfast options, amazing Table Mountain views (Ashanti Lodge Backpackers Gardens ) or within walking distance to the Waterfront and Beaches (Ashanti Backpackers Green Point) and have the friendliest staff around.
You can visit our travel centre for great advice on getting around Southern Africa and also booking information on care hire, bus tickets, Cape Town adventure activities, Baz Bus, Kruger Park, Garden Route and general African overland safaris.
We can't wait to welcome you to Ashanti and to Cape Town!
» Get Skype, call free!
We look forward to hearing from you. Available 08h00 – 16h00 Mon-Fri (GMT+2)
Call Us on + 27 21 423 8721
Whatever Your Style, We Have The Accommodation To Suit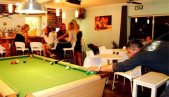 Ashanti Lodge Backpackers Gardens
With an incredible Table Mountain view, Ashanti Gardens is one of the original Cape Town backpacker hostels that offer budget accommodation options in dormitories and private rooms.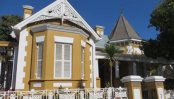 Ashanti Lodge Guesthouses
Victorian guesthouses with beautiful en-suite rooms each with satellite tv, free wi-fi and self-catering kitchen. Secure and quiet and just a few minutes walking into Cape Town city centre.

Ashanti Lodge Backpackers Greenpoint
Within walking distance to Cape Town Stadium and the V&A Waterfront this is a newer, stylish, quieter private backpackers hostel which is also close to the city's nightlife activities.

Ashanti Lodge Travel Centre
Our in-house travel desk can advise on climbing Table Mountain, visiting Robben Island as well as various Cape Town adventure activities, car hire, bus tickets and overland safaris.

I slept like I was in a marshmallow of joy. And for that, I thank you my dear friends of Ashanti. I will always hold a place for you in my soul.
With over 20 years of experience we feel we have all your needs covered. Come stay with us and become part of the International Ashanti family!
People in the Pool at Once
What's happening at Ashanti?
Read all about the latest goings on at Ashanti, as well as info about Cape Town, travel advice, tours and local events.
admin
It's day five of your dream holiday abroad. Whilst staying at Ashanti Lodge in Cape Town, you've already gone on numerous sight-seeing excursions, sampled traditional cuisine, made new friends and uploaded tons of photos to […]
admin
What To Do During The Cape Town Fringe Festival?
The Cape Town Fringe Festival is South Africa's freshest arts festival. The Festival will take place between the 24th of September and the 4th of October. It […]
admin
On Monday the 17th of August, Tyrone and Florian were sent by the Ashanti Travel Centre to experience the "Travel With Andre" Wine tasting tour.
At 9:00am, Mathew Kruger, one of the guides for "Travel with […]